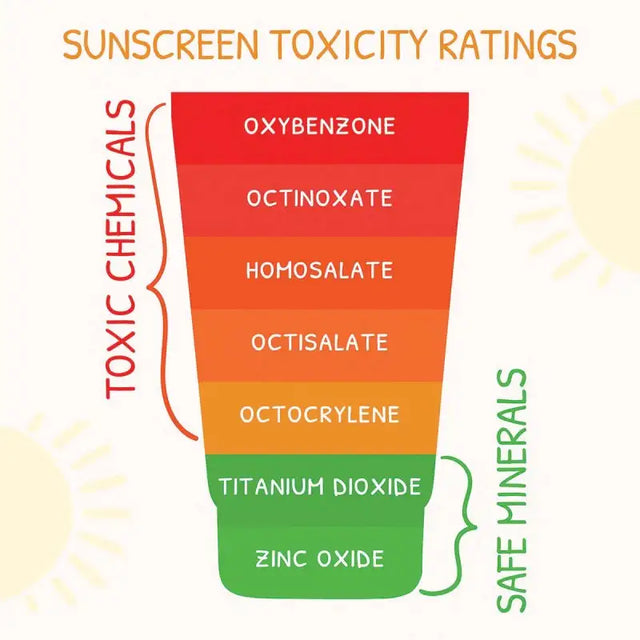 From EWG.org/SkinDeep
Reef-Safe Sunscreen
Made for Swimmers, Surfers, Snorkelers...and You
Dermasport's SPF 50 Facial Sunscreen is honestly reef-safe. Our water-resistant formula uses non-nano zinc oxide (20%) and does not contain oxybenzone or octinoxate, which Hawaii's reef-safe law SB2571 has banned as of 1/1/2021. Learn more about SB2571 here.
Note from Dermasport's Founders: While developing Dermasport's sunscreen, we were saddened to learn that certain sunscreens containing banned ingredients falsely claim to be "reef-safe" or "reef-friendly" because the FDA does not regulate these terms. When you shop for reef-safe sunscreens, always look at the ingredients on the back panel to ensure it is genuinely a reef-safe formula.
Made in the USA
to Reduce Our Carbon Footprint
All of Dermasport's products are formulated and filled right here in the USA. By manufacturing domestically, we have eliminated the pollution generated by shipping products across vast oceans from Dermasport's supply chain.
In addition to the environmental benefits, our commitment to local manufacturing fosters employment opportunities and supports the growth of good-paying jobs within local economies nationwide.
Recycling FAQs
Can I recycle Dermasport's aluminum bottles?
Yes, Dermasport's bottles are 100% aluminum and can be recycled everywhere recycling is accepted. Please clean out your empty bottles before recycling.
Why is aluminum packaging environmentally friendly?
Aluminum is considered environmentally friendly and highly sustainable because it is excellent for recycling due to several reasons:
​Endless recyclability: Aluminum can be recycled indefinitely without losing its original properties.​
Energy efficient: Recycling aluminum requires significantly less energy than producing it from raw materials. The process of recycling aluminum, known as secondary production, consumes about 95% less energy than primary production because it breaks down quickly at low temperatures.
​Resource conservation: Aluminum is derived from bauxite ore, which is mined from the Earth's crust. By recycling aluminum, we can conserve natural resources and reduce the need for mining.
Recycling one ton of aluminum saves approximately 14,000 kilowatt-hours of energy​ and tons of greenhouse gases​, so please recycle your Dermasport bottles.
Can I recycle Dermasport's plastic sunscreen tube?
Yes, Dermasport's sunscreen tubes are made of PCR plastic and can be recycled at most recycling facilities.
What is PCR plastic?
PCR stands for "post-consumer recycled" plastic, which refers to plastic materials that have been recycled from consumer waste, such as bottles, containers, or packaging. By using PCR tubes, Dermasport is supporting the marketplace for recycled materials, which incentivizes recycling programs around the world.
Can I recycle Dermasport's paper tube and cardboard box?
Yes, the cardboard box and paper tubes your Dermasport products arrived in are 100% recyclable.
We do not use any wax or plastic coatings on our paper packaging. So our boxes may not be as shiny and durable as other brands, but we're happy to say they are fully recyclable.
What does "recycle ready" pumps mean?
The term "recycle ready" indicates that the packaging is designed and optimized for existing recycling systems. Our aim with "recycle ready" pumps is to minimize the chances of Dermasport's packaging contaminating, clogging, or disrupting the recycling process in your community.

We must note that the interpretation and requirements for "recycle ready" packaging can vary by region because not all recycling facilities can recycle every recyclable material.
Therefore, it's critical you consult your local guidelines to understand the specific requirements for recycling in your area.
Where can I learn more about recycling in my local area?
Check out these helpful resources to learn more about recycling guidelines and requirements in your area:
​Your city's website - Most Your local municipality should have a dedicated section on its website that provides information on recycling programs​ and requirements specific to your area.
Example: Recycling Guide | City of Santa Cruz
Protect Your Skin and Our Planet with Dermasport